Maggie Valley Seasons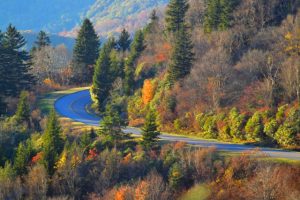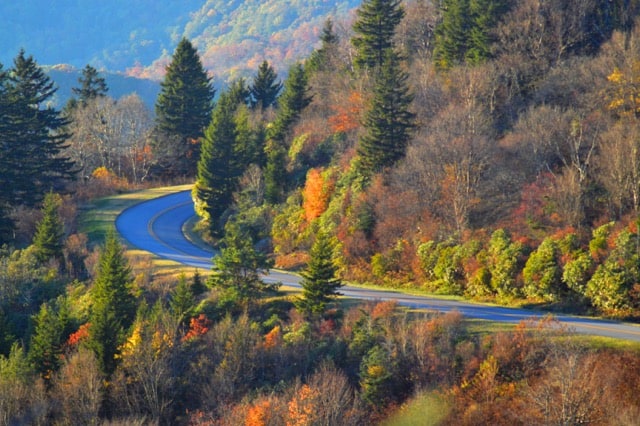 We are very fortunate to be able to celebrate the wonder and magic of all four seasons here in Maggie Valley and the Great Smoky Mountains.
With each season comes a variety of weather conditions.  Below you can get a general idea of our seasons and how you should pack and prepare for your stay with us.
Spring
Late March through May is considered springtime. The temperatures are generally mild; however, it is not uncommon for the days to range from very cold to quite warm.  We have had snow, usually just flurries, as late as the end of May. Everything begins to come alive and turn green.  Consider visiting some of the local gardens and national parks/forests to see all kinds of plants that are indigenous to our area. It is always a good idea to pack a pair or two of shorts and a light jacket.  You may find that dressing in layers is best for this time of year. Driving conditions for the spring can be tricky.  Be aware of the temperature and wet roads.  If the temperatures are low enough, especially late at night and in the early morning hours, black ice may be possible. Black ice is a condition where the road appears to be wet, when in reality it is a thin layer of ice. Use your best judgment, and always use care when driving in the mountains.
Summer
June, July, and August represent our summer months.  The days are warm with an average high of 80 degrees. Because of our ridges and valleys, many homes in our area do not have air conditioning.  Opening windows and turning on ceiling fans will give you a wonderful cross-breeze of fresh mountain air. Be sure to have a jacket on hand for the cool summer nights.
Fall
Beautiful colors, fresh produce, and lots of fall festival-type events fill the days in September, October, and November. The days are generally mild with temperatures in the lower to mid-70s with the night temperatures in the lower to mid-50s. You will need a light jacket most mornings and evenings. Driving conditions in the fall can be tricky, as well.  Along with the possibility of black ice, please be aware of roads that are covered in wet leaves, pine needles, etc.  This debris is usually wet on the bottom layers and is very slick.  Again, use your best judgment and care when driving in the mountains.
Winter
December through mid-March are our winter months.  Most days are quite cool, with some days being extremely cold.  There have also been days during this time that reach into the 70s. We recommend you pack a coat, gloves, etc. for this time of year. A four-wheel drive vehicle is not a "must-have" for visiting our area during the winter. Snow, sleet, and freezing rain are common elements that occur in our area during this season.  Most of the time, these elements affect the higher ridges and peaks of our area. Again, be aware of the weather and conditions, and always use your judgment and care.