Maggie Valley Area Golf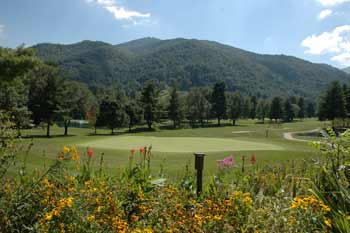 Maggie Mountain Vacations offers guests a discount coupon for golf at Maggie Valley Club. The tickets can be purchased at check in or anytime during your stay. Tee Times are subject to availability. Coupon purchases are non-refundable.
 Mountain Golf is a special treat to those who live in the low lands. The elevation changes and the terrain of mountain courses can challenge even the best pro. Let us recommend a course that best suits your skills, and the mountain golf experience will be one to remember for a lifetime.
Lake Junaluska Golf Course
756 Golf Course Road
Waynesville, NC
828-456-5777
Approx. 3 miles
Laurel Ridge Country Club
788 Eagle Nest Road
Waynesville, NC
828-452-0545
Approx. 10 miles
Maggie Valley Club
1819 Country Club Drive
Maggie Valley, NC
866-659-4725
Approx. 2 miles
Springdale Country Club
200 Golf Watch Road
Canton, NC
828-235-8451
Approx. 35 miles
Waynesville Country Club
176 Country Club Drive
Waynesville, NC
800-627-6250
Approx. 15 miles