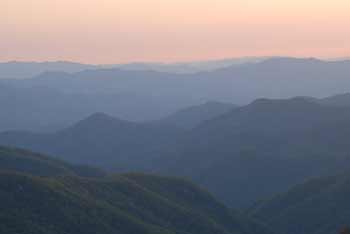 Within a short drive of our cabins and Maggie Valley vacation homes, the Great Smoky Mountains National Park is one of the most visited National Parks in the country. Oddly enough, much of the park is in access able by car. You can transverse the park from south to north on highway 441 which will give you a great cross section of the park from the low elevations all the way up to Newfound Gap which is were the Appalachian Trail crosses the road. At that location, you can also take a sidetrack up to Clingman's Dome. From the parking area there is a short hike to the observation tower with great views in all directions.

If you really want to explore the park, you'll have to get out and put the feet to the trails. Hundreds of miles of trails from short walks to day long hikes await the adventurer.

The park has gone through great lengths to preserve the mountain heritage in several locations. Mingus mill, a few miles from the south entrance to the park, is a working grist mill in its original location. On the North side of the park is the beautiful Cades Cove. The auto loop will pass numerous farm and homestead structures that have been restored to working condition including a collection of Cantilever barns, which are only found in this area.