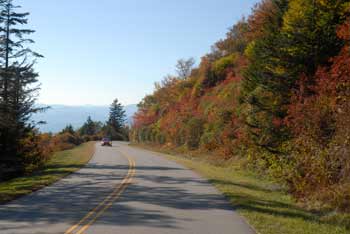 Close by to our Maggie Valley cabins and vacation homes is the southern end of the Blue Ridge Parkway. The parkway terminates at the entrance to the Great Smoky Mountains National Park. A short drive will bring you to the farmstead museum which is great place to get out of the car and stretch your legs. The farmstead features buildings that were relocated from inside the park from before the turn of last century, giving visitors a glimpse into what life is southern Appalachia was like over 100 years ago.
Traveling back north on the parkway you will come across Water Rock Knob, which is great place to park and take a hike in the higher elevation forest. A short walk from the parking area removes you from all traces of civilization. Great views in all directions including a great view west of the the National Park and Clingmans Dome and Mount LeConte.
Further up the parkway are highlights like the highest point on the parkway at over 6000 feet, and Graveyard Fields, a great place for hiking in and around the cascading waterfalls.